CNC Router bits for carbon fiber and fiberglass – Spektra™ Extreme Tool
Solid Carbide CNC Spektra™ Extreme Tool Life Coated Spiral Carbon Graphite & Carbon Fiber Panel
---
CNC Router bit for cutting not only carbon fiber and fiberglass but also other materials such as aluminum, brass, copper, MDF laminate, plastic, wood, veneered plywood.
All Spektra ™ Extreme Tools are coated with nACo, a micro-thin ceramic covering that protects the cutting edge from heat and prevents oxidation.
These industrial router bits combat abrasion heat and the breakdown of composites for clean, accurate cuts.
The covering guarantees an increase in the duration of 2 times compared to the uncoated ones.
The fitting shank diameter is 1/8 (3.17 mm) so to use it you need an ER Collet for tool diameters  1/8 (3.17 mm). You find them at this page: ER Collet
---
Features:
Diameter (D) 3.17 mm (1/8″);
Useful cutting height (B): 12 mm (1/2″);
Shank (d): 3.17 mm (1/8″);
Overall height (L): 50.8 mm (2″)
Flutes: 10
Excellent for cutting:
Carbon Fiber
Carbon Fiber Reinforced Polymer (CFRP)
Carbon Graphite
Composite Materials
Fiberglass
Fiberglass PCB Board
Fiber Reinforced Plastic (FRP)
Glass Fiber Reinforced Polymer – Plastic Materials (GFR)
Glass Reinforced Plastic (GRP)
G10 = High-pressure fiberglass laminate, a kind of composite material
G10 / FR-4 Glass Epoxy Composite Laminate Material
G11 / FR-5 Glass Epoxy Composite Laminate Material
Micarta® (Brand name for composites of linen, canvas, paper, fiberglass, carbon fiber, or other fabric in a thermosetting plastic.)
Phenolic
Phenolic "Garolite" G-7
Plastic PVC & Acrylic
Thermoset Composites
Thermosetting Plastics
---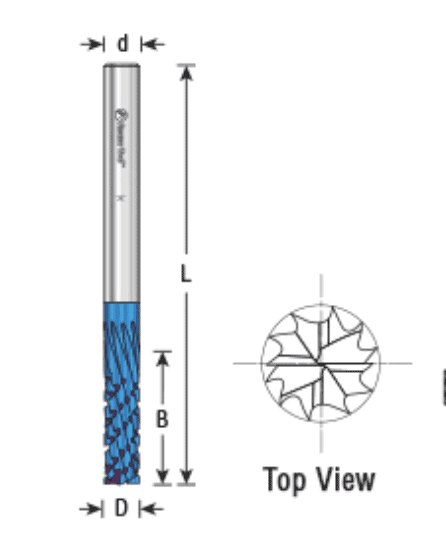 ---